Stay on top of market movements with the Launch Pad. Updated daily.
Today
Futures wiped out earlier gains and are pointing to a lower open with risk-off sentiment spreading across both equity and bond markets. The banking sector continues to be a source of angst with Deutsche Bank's credit default swaps jumping on concerns over the health of the European banking industry and a bank probe being launched by the US Department of Justice.
Probing for answers. Banks will be under the microscope as part of a US Justice Department probe into whether financial industry employees helped Russian oligarchs evade sanctions. The Justice Department inquiries are focused on identifying which bank employees dealt with sanctioned clients and how those clients were screened over the past several years. Those bankers and advisers may then be subject to further investigation to determine if they broke any laws. As if they didn't need more bad press, both Credit Suisse and UBS are included in the investigation. However, the information requests were sent before the crisis that engulfed Credit Suisse resulted in UBS's proposed takeover.
Don't look now, but despite all the recent turmoil and volatility the Nasdaq 100 has been flirting with bull market territory, up nearly 20% since the December lows. The rally has been led by megacaps like Apple Inc. and Microsoft Corp, who are flush with cash, leading to the tech heavy index largely outperforming other benchmarks this month, notably the Dow which is down 2% year-to-date. This is a far cry from 2022 when it was the reverse. Keep in mind however that the Nasdaq was down over -30% in 2022 before the rally so there is still some catching up to do.
The US and Canada are set to announce a deal to rewrite an immigration accord that has driven people to cross the border between the two countries by land to refile asylum claims, a key annoyance between the governments. Joe Biden arrived in Ottawa yesterday for his first visit to Canada as president and tensions over migration was a key part of the agenda. The terms of the deal are still taking shape and could change before a formal announcement, but both countries would agree to effectively rewrite the Safe Third Country Agreement to treat all border crossings the same, removing the incentive for people to cross by foot. In exchange, Canada would agree to take 15,000 more people in through formal channels. Other topics on the agenda include Ukraine, banking concerns, trade and air defense.
Big bucks for Ontario. Canada's most populous province at nearly 40% of the population tabled its biggest budget at $204 billion yesterday, 30% more that the Liberals' final budget of $158 billion. Ontario said it expects to run a smaller deficit next year at $1.3 billion, compared to $2.2 billion this year and balance its books (gasp) by 2024-2025. This is a stark contrast to last year, when the projection last year was for a 2022-2023 deficit of nearly $20 billion. The budget includes $81 billion on healthcare (helped by additional funding from the federal government), including $200 million to help deal with staffing shortages. While a lot of dollars are being doled out across sectors and industries, there will be no direct relief for Ontarians to help manage the current cost-of-living predicament. Top items from the Ontario budget can be found here.
United Nations experts warn the lack of drinking water and healthy sanitation infrastructure around the world is dire and getting worse. About three quarters of the world's population falls into the water insecure category, meaning their environment scores less than 65 out 100 on an indicator comprised of 10 water-related factors. Of those facing water insecurity, 4.41 billion are in Asia-Pacific, 1.34 billion in Afrida, 415 million in the Americas, and nearly 66 million in Europe. Roughly 8% of the 7.78 billion humans on this planet face critical water insecurity. Learn more from the United Nations on water scarcity.
Got rocked. The LME may be in trouble again after announcing last Friday that several shipments of nickel in one of its warehouses didn't contain nickel at all. Instead of what was supposed to be approximately $1.3 million in nickel, bags were filled with rocks, and it was discovered that the unlucky owner was JPMorgan. LME-approved warehouses—which are not owned by the exchange—are meant to weigh and inspect metal shipments before accepting it into storage. You think they would have learned their lesson – in February, commodity trader Trafigura discovered nickel shipments it bought contained less valuable materials and could stand to lose over half a billion dollars. Interestingly, this comes almost at the 1-year anniversary of the infamous short-squeeze of Chinese metal tycoon "Big Shot", that led to the LME suspending trading for over a week. Happy Anniversary? If you do have any nickel bags at the LME, don't worry, the LME reported they just inspected all their inventories of bagged nickel without discovering any more issues.
Diversion:
Leave me alone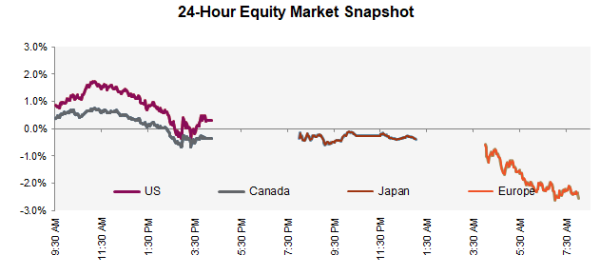 (% equity weight)

Our tactical fund is designed to complement your existing holdings to minimize portfolio volatility. To learn more, please

click here

.
Company news
TikTok CEO Shou Chew faced combative questioning and defended his company against a barrage of criticism from hostile US lawmakers, repeatedly asserting the app's independence from its Chinese owners. Chew said its Beijing-based owner, ByteDance Ltd., is mostly owned by international investors and most of its board members are American. Before the House Energy and Commerce Committee he said, "The bottom line is this is American data on American soil by an American company overseen by American personnel". However more importantly, Chew could not unequivocally say that no ByteDance employees have access to that data, stating rather that he's "seen no evidence" of that happening.
The last mile race is on. Walmart and Target are vying for dominance in the last mile their products travel before arriving at customers' homes, with each company taking a very different route to get there. Many companies have lost their way trying to solve the last mile problem with the average cost of $10.10 per order while the customer coughs up only $8.08. Capgemini Research Institute reports the net promoter score (how likely a customer is to recommend a service) for last mile delivery was negative nine (the score range is usually –100 to 100). Walmart is counting on its partnership with the Spark Driver platform, which uses independent drivers for delivering orders directly to homes. The retail juggernaut also increased to 15,000 pickup points enabling them to reach 84% of American households. Target, on the other hand, is relying on Shipt (a company they purchased in 2017 for $550 million), who employs more than 20,000 personal shoppers to deliver goods to customers. Anyone Shipt their pants lately?
International Business Machines Corp. and Canada will be signing a high-level agreement on expanding semiconductor cooperation, during US President Joe Biden's visit to Ottawa. The memorandum of understanding will seek to capitalize on the US push for semiconductor investment with its CHIPS Act. IBM already operates a large facility for testing and packaging semiconductors in Bromont, Quebec. The agreement will lay out a plan to further build out the microchip ecosystem in the region, particularly when it comes to workforce development. It will also pledge to look at increasing Canada's role in the semiconductor supply chain and integrating it with US manufacturing.
Commodities
Oil prices are down over –3% with risk assets slumping and commodities feeling the pressure from an uptick in the U.S. dollar. Crude remains on course for its steepest first-quarter drop since 2020, when the pandemic wiped out demand. Concerns weighing on markets include a potential U.S. recession, robust Russian oil flows in the face of Western sanctions and strikes at refineries in France. More interestingly, there is a change on the horizon for oil demand, with India set to eclipse China as the most important driver of global growth, and potentially the last, as the world shifts to a cleaner environment. A swelling population, which has likely already surpassed that of China, will help to underpin that growth along with consumption trends. India's transition from traditional gasoline and diesel-fueled transport is expected to lag other regions, whereas China's adoption of EVs is booming.
Iron ore is heading for its biggest weekly loss since October on increasing concern over Chinese steel demand. Despite being higher today, the steel-making staple is down around 8% this week. In an ominous sign for demand, stockpiles of steel at Chinese mills have been rising steadily in March. That's even as output volumes increase to meet construction demand before a likely government-mandated cut in nationwide production of the alloy for environmental reasons.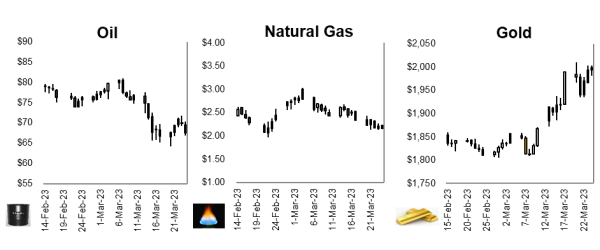 Fixed income and economics
Global bonds are rallying today as renewed concern over the banking sector spurred demand for safe assets and fueled bets central banks won't be able to keep raising rates for long. Yields on sovereign bonds were lower led by short-end debt that is more sensitive to policy changes. Investors turned to havens as bank shares slumped headlines surfaced that Credit Suisse Group AG and UBS Group AG are among lenders under scrutiny in a US Justice Department probe into whether financial professionals helped Russian oligarchs evade sanctions.
Switzerland defended its decision to render an entire class of Credit Suisse Group AG debt worthless during last week's state-brokered takeover by UBS Group AG, telling bondholders that they had been warned of the risk in the paperwork. Approximately 16 billion francs ($17.5 billion) worth of Credit Suisse Group AG's contingent convertible bonds, referred to as AT1s, were wiped out in the deal, which contained guarantees against some potential losses for UBS and liquidity lines from the Swiss National Bank. Banking regulator Finma said in a statement Thursday that the emergency law published alongside the deal enabling the guarantees meant invoking the loss provisions in the bonds' prospectuses.
Chart of the day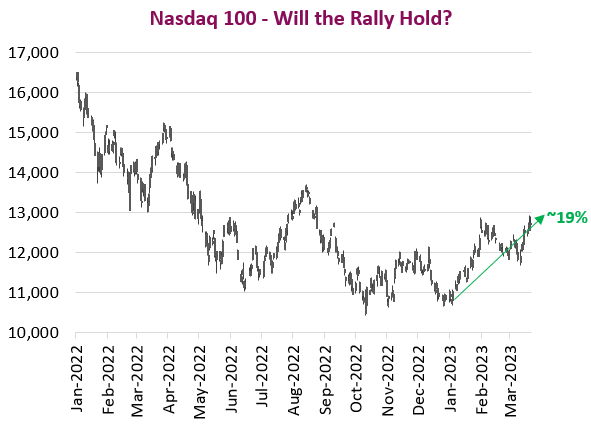 Quote of the day
The purpose of life is a life of purpose.
Robert Byrne
Contributors: A. Innis, A. Nguyen, P. Kwon, M. Letchumanan
The opinions expressed in this report are the opinions of the author and readers should not assume they reflect the opinions or recommendations of Richardson Wealth Limited or its affiliates. Assumptions, opinions and estimates constitute the author's judgment as of the date of this material and are subject to change without notice. We do not warrant the completeness or accuracy of this material, and it should not be relied upon as such. Before acting on any recommendation, you should consider whether it is suitable for your particular circumstances and, if necessary, seek professional advice. Past performance is not indicative of future results. Richardson Wealth Limited, Member Canadian Investor Protection Fund. Richardson Wealth is a trademark of James Richardson & Sons, Limited used under license.