Stay on top of market movements with the Launch Pad. Updated daily.
Today
Futures are steady but taking a breather this morning after an impressive month end rally yesterday, fueled by China's softer stance on Covid and confirmation of a slower U.S. rate-hiking pace from the Fed. Stocks rallied across the board yesterday after Jerome Powell signaled a slowdown in the pace of tightening as early as December. Still, he indicated more hikes will be needed, but investors didn't seem to care, sending the S&P 500 to close at a two-month high and notching its longest monthly winning streak since August 2021. The TSX also had its second consecutive monthly advance for the first time since March.

Technically speaking. The S&P500 finished the month above its 200-day moving average, the first time since April of this year. The 200-day moving average is a technical indicator used by traders to gauge longer-term price trends. Meanwhile the Dow rose 2.2% yesterday, continuing its ascent since it touched its 2022 low on September 30. Since then, the Dow has risen just over 20%, which technically put it back in bull market territory.

Jerome Powell signaled yesterday that the Fed will slow the pace of interest-rate increases next month but stressed borrowing costs will need to keep rising and remain restrictive for longer than originally expected. Powell noted that there has not been enough evidence to support a case that inflation will soon decelerate noting that the labour market is only showing tentative signs of rebalancing, while wages are well above levels consistent with 2% inflation over time. The comments cement expectations for the Fed to raise interest rates by 50 bps when they meet this month, which is welcome news following the four straight 75 bp hikes they dealt this year. Investors see the Fed pausing hikes in Q2 of next year, once rates reach about 5%.

A recent report found that Canadians are relying more on credit cards and other forms of debt as inflation persists. Canadians held a combined outstanding balance of $2.29 trillion on active credit products during Q3 of this year, up 7.9% from last year. The number of consumers with an active credit account reached a record high over the quarter as well, with participation growing the fastest among those born between 1995 and 2010 at 20.9% YoY. Canadians shouldn't feel too bad though, as we're not alone. As of the Q3 of 2022, Americans hold $925 billion in credit card debt, which is a rise of $38 billion since Q2 2022 and a 15% YoY rise, the biggest jump in more than 20 years.

Labour lull, well sort of. The call-up of civilians to fight in Ukraine has led to a record depletion of workers across Russia putting entire industries in distress. The effects of the war are taking a toll on Russia's economy with the labour shortage spreading across a country already hobbled by an aging and shrinking population and with unemployment near the lowest ever. The mobilization of 300,000 men, combined with an even bigger wave of emigration it triggered, will reduce the male labor pool by 2%. A study found that up to a third of Russian industry may face a deficit of personnel because of the draft, the most severe crunch since 1993.

Burp! Excuse me. The livestock industry is experimenting with adding seaweed to the feed to prevent cows from belching methane. Harvesters of Asparagopsis, the edible red algae that prevents the greenhouse gas from forming in the bellies of bovines is struggling to meet the increased demand. Methane is the second-largest cause of global warming, and livestock contribute an estimated 32% of emissions generated from human behaviour. Just counting the 1.5 billion cows raised for meat globally, that's 231 billion pounds of methane each year. According to one of the studies, giving cows seaweed in their feed could cut 98% of their methane emissions.


Diversion: At least he didn't also forget the ring.
(% equity weight)

Our tactical fund is designed to complement your existing holdings to minimize portfolio volatility. To learn more, please

click here

.
Company news
CIBC posted earnings that missed analysts' estimates as the lender failed to benefit from rising interest rates with net interest margin contracting 10 basis points to 1.33% in the fiscal fourth quarter. CIBC's lending margins had expanded more slowly than those of some peers, hurt by hedges in the bank's U.S. business that were meant to protect against falling rates. In the fourth quarter, margins shrank at home as well. On a positive note, CIBC will raise the annual dividend by 2.4%.

Bank of Montreal also did not fare well in the fiscal fourth quarter as a slowdown in capital markets weighed on investment-banking revenue with profit from BMO Capital Markets falling 33% to $357 million. Volatile equity markets have dried up demand for IPOs while debt capital markets also have been slow. BMO announced a dividend raise of 2.9%.

TD Bank's adjusted earnings beat consensus forecasts benefiting from strong performances by its largest segments and a strong U.S. dollar. The Canadian banking and financial services corporation posted net income of $6.67 billion, compared with the prior-year period when it reported net income of $3.78 billion. The wealth management and insurance unit's net income decreased by 15% to C$516 million as insurance claims and expenses rose 11% in the period, and its wholesale banking saw a decrease of 38% in net income to $261 million. It looks to be a trend with TD announcing a dividend increase of 7.9%.

Canadian Natural Resources is looking to raise production as high as 1 million bpd in 2023 for the first time as the company ramps up drilling amid historically high prices. Along with natural gas, the forecast is for production to increase by 56,000 barrels of oil equivalent a day from this year to as much as 1.4 million barrels. Oil sands production, accounting for almost 75% of oil output, will increase about 5% as the company drills new well pads and reduces maintenance work at some facilities. Conventional production is expected to grow about 4% as heavy output rises from the Clearwater formation in Alberta and in the Bonnyville and Lloydminster areas.
Commodities
Copper and iron ore extended recent big gains, on positive sentiment that China will loosen Covid restrictions and the Federal Reserve will slow rate hikes. China's top official in charge of its Covid response said the fight with the virus is "entering a new stage," in remarks that hinted at more easing of stringent curbs. Both developments offer hope that two of this year's major headwinds for industrial commodities may be at a pivot point. But major uncertainties remain for China and for the world economy. Factory data for November showed manufacturers struggling across Asia.

European natural gas prices are pushing higher as a wave of cold weather is set to boost demand and test the region's preparedness for the winter amid restricted supplies. Benchmark futures rose as much as 13% to the highest level since Oct. 13. A harsh winter could leave the continent more exposed to any further supply squeezes after Russia cut off most piped gas flow over the summer. LNG has helped replenish the missing shipments and fill reservoirs, but inventories are starting to decline. Gas prices that are four times higher than normal for this time of year, are fueling inflation and hurting economies.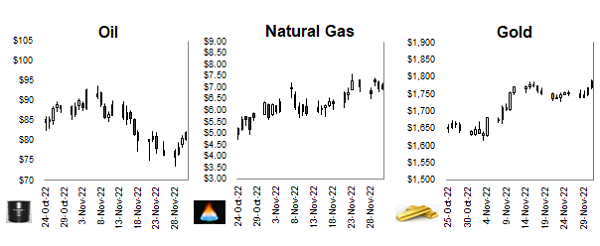 Fixed income and economics
Yes, Virginia, there is a Santa Claus. He just happens to wear a suit and tie instead of a stocking cap. Risk-on markets ripped to the upside yesterday following prepared remarks and a Q&A session from Fed Chair Jerome Powell whom confirmed that while interest rate hikes remain firmly on the table, they will be smaller sized increases going forward. Translation: the days of 75 bps jumbo tightening moves are over (barring any unforeseen circumstances) as the central bank carefully assesses the economic landscape and results from their moves earlier this year. Recall that policy moves such as interest rate increases and the reduction of the Fed's bond holdings generally take as long as six months to make their way through the financial system. As such, Powell reiterated that officials don't want to over-tighten policy because "cutting rates is not something we want to do soon" and hence force the Committee to undo all their previous work. So after the December 14 meeting (where a 50 bps hike is fully priced in) you'll likely see a protracted period of 25 bps increases going forward as warranted. On the subject of inflation, Powell softened his stance by telling the audience that "the path is wholly unpredictable" which further supported his cautious tone of tightening too much, too fast. Toss in the fact that uber hawk James Bullard of the St. Louis Fed is rotating out as a Committee voting member in 2023, and it's understandable why markets took the downshifting language as an early Christmas holiday gift. More on the Santa Claus rally in our latest "
Market Ethos: Do we believe in a Santa Claus rally?"
What do Russell Metals Inc., Parkland Corp., Videotron Ltd. and CI Financial Corp. have in common? All of them have outstanding bonds maturing in late 2025 with all of them currently trading in a yield context of 6.75%. The peculiarity in this comparison however lies in the fact that three of these debt issuers are junk rated while one isn't (yet). CI Financial raised eyebrows yesterday with the sale of CAD $400MM in new three year senior unsecured bonds that priced with a 7% coupon — a funding level that far exceeds other similar tenor investment grade financial issuers. The NBF-led offering did not lack for demand with an order book that was 1.3X oversubscribed with over forty individual buyers. Rather, would-be buyers of the Toronto-based asset manager's new deal received a warning shot from S&P Global Ratings whom placed the issuer on negative watch for a potential downgrade. Already sitting at BBB- and the lowest investment grade tier, the ratings agency warned that declining earnings growth and an elevated debt-to-EBITDA ratio in excess of 4.0X could see CI's creditworthiness cut to junk status within six months. A spending binge on U.S. wealth managers over the past few years has seen CI's total debt outstanding balloon to $4.2 billion versus its current equity market cap of $2.6 billion.
Chart of the day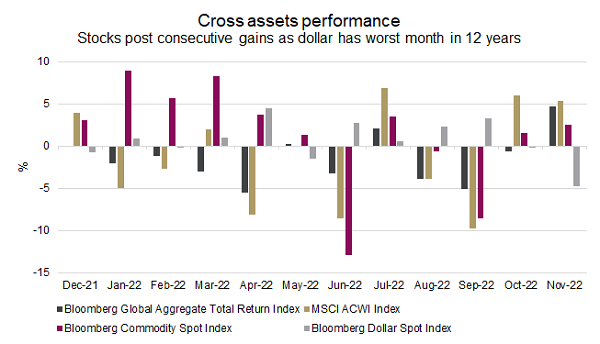 Quote of the day
Everything you can learn from is an opportunity to become stronger.
Daniel Ricciardo
Contributors: A. Innis, A. Nguyen, D.Mak, P. Kwon
The opinions expressed in this report are the opinions of the author and readers should not assume they reflect the opinions or recommendations of Richardson Wealth Limited or its affiliates. Assumptions, opinions and estimates constitute the author's judgment as of the date of this material and are subject to change without notice. We do not warrant the completeness or accuracy of this material, and it should not be relied upon as such. Before acting on any recommendation, you should consider whether it is suitable for your particular circumstances and, if necessary, seek professional advice. Past performance is not indicative of future results. Richardson Wealth Limited, Member Canadian Investor Protection Fund. Richardson Wealth is a trademark of James Richardson & Sons, Limited used under license.