We're officially a Great Place to Work®, thanks to our people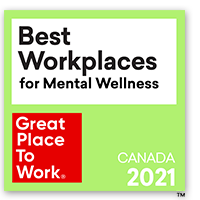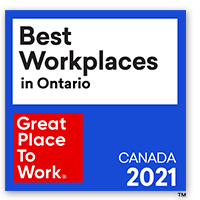 We've always known our firm is an exceptional place to work, and now it's official once again. For the fifth year in a row, we have been certified as a Great Place to Work.® Not only that, we've been recognized once again as one of Canada's Best Workplaces™ in Financial Services and Insurance for 2023. This recognition means so much because it comes directly from our employees, and what they say as a whole about their work experience in our offices across the country. Our firm's success, strength and effectiveness is a direct reflection of the advisor teams and individuals who work here.
Our firm has also been named on the 2021 list of Best Workplaces™ for Women. This endorsement is a wonderful testament that we don't just talk-the-talk, we walk-the-walk with our commitment to the advancement of gender equality in our corporate and public communities.
And, at a time when many of us continue to face so many challenges, we are proud to have also been recognized as a Best Workplace™ for Mental Wellness, highlighting our dedication to preserving an environment that makes mental health a top priority. We believe protecting and nurturing employee wellbeing has never been more important.
Here some of the other Great Place to Work ® certifications and awards Richardson Wealth has received:
Best Workplaces™ in Financial Services & Insurance – 2019, 2020, 2021, 2022, 2023
---
Best Workplaces™ for Hybrid Work – 2022
---
Best Workplaces™ in Canada – 2019, 2021, 2022
---
Best Workplaces™ in Ontario – 2020, 2021. 2023
---
Top 50 Best Workplaces™ 2022
---
These recognitions and certifications underscore our deeply ingrained principles and unwavering commitment to each other, our clients and communities. Ultimately, we believe this is a true reflection of our culture of trust and the way we work. We've joined the ranks of Canada's most esteemed companies, achieving the definitive standard of what it means to be a Great Place to Work®.
Think you would be a great fit with our team?